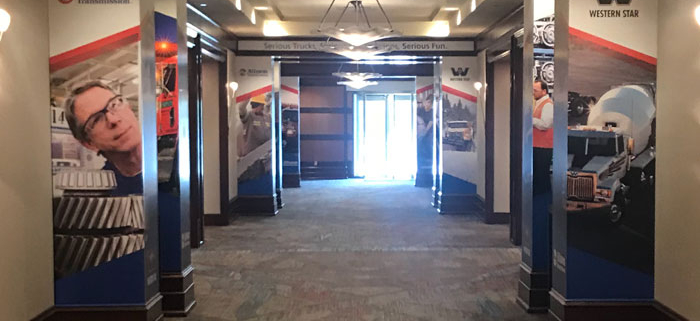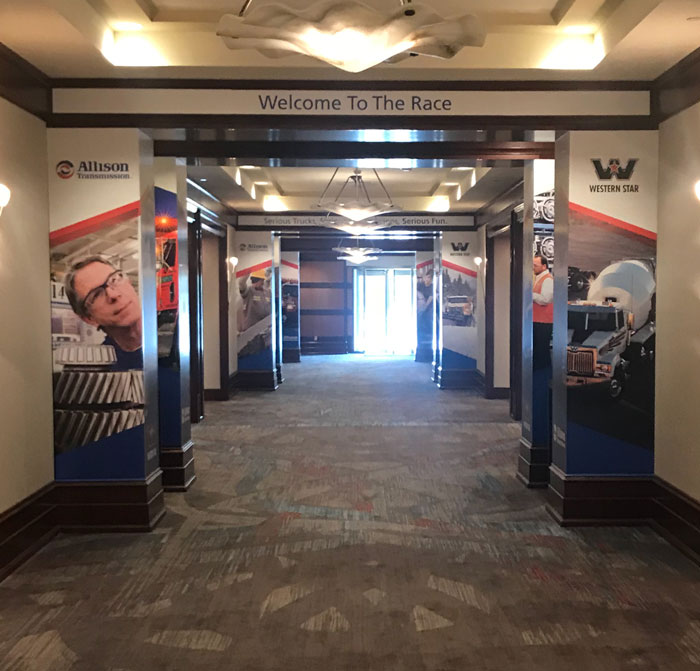 At the Marriott in downtown Indianapolis, Indiana Allison Transmission hosted an event using CMC Global; an Event Management Company based in Indianapolis, Indiana. According to their site, they do work all over the world for a variety of corporations, not-for-profits, and associations to provide a wide range of services: accommodation, transportation, special event production, group and team-building activities, and destination management. So, you can imagine it was cool having the opportunity to have them as a client. For this project, we had to print out several vinyl sheets and cut them down to 8ft by 2ft sheets for them to fit the sides. The cut must be exact and almost perfectly straight or else there will end up being slightly exposed spots and that's not a good look.
We apply it by using a method called "applying dry". This method is when we don't spray anything on the surface of the applicant to allow us
to move the product around freely. Effective, this method can also be messy and doesn't work on every surface. The problem with laying vinyl dry is that once you apply it, having to move it around to fit the shape as perfectly as possible becomes a challenge. The vinyl will stick so pulling it off without tearing can be terrifying. The fun doesn't stop there, after you apply you need to get the air bubbles out. Have you ever tried to put a screen protector on your smart phone and notice those bubbles or annoying spots you can move around just by applying some pressure to them? Those are air bubbles. The best way to get rid of them is, of course, to keep them from happening in the first place. You start by applying your vinyl on one side, typically the top. As you begin moving your way down you use a hand-held squeegee to move the air bubbles towards the sides so they won't build up. After you finish, you check all over to see if any bubbles snuck in there. If there none, well done! If there are some, you can try simply pressing your squeegee next to the bubble(s) and slide the bubble out. A stiff bubble means you need to stop pressing, you could end up tearing into your vinyl. You can either remove enough vinyl to start the beginning process at the bubble spot or poke a very tiny hole into the bubble and just slide the bubble into it so the air can escape. If you're going to poke a hole, make sure it with an object with a very small tip, like an X-ACTO knife. We do this kind of work all the time, so if you're looking to get some wall wraps we can provide the professional work and finish you deserve.
https://businessart.com/wp-content/uploads/2018/07/CMC-Global-Marriot-Hallway-fixed.jpg
671
700
Caleb Stainbrook
https://3zv.13c.myftpupload.com/wp-content/uploads/2018/05/Header-Logo-3.png
Caleb Stainbrook
2018-07-03 13:10:41
2018-08-21 16:00:54
CMC Global Vinyl Wall Wraps